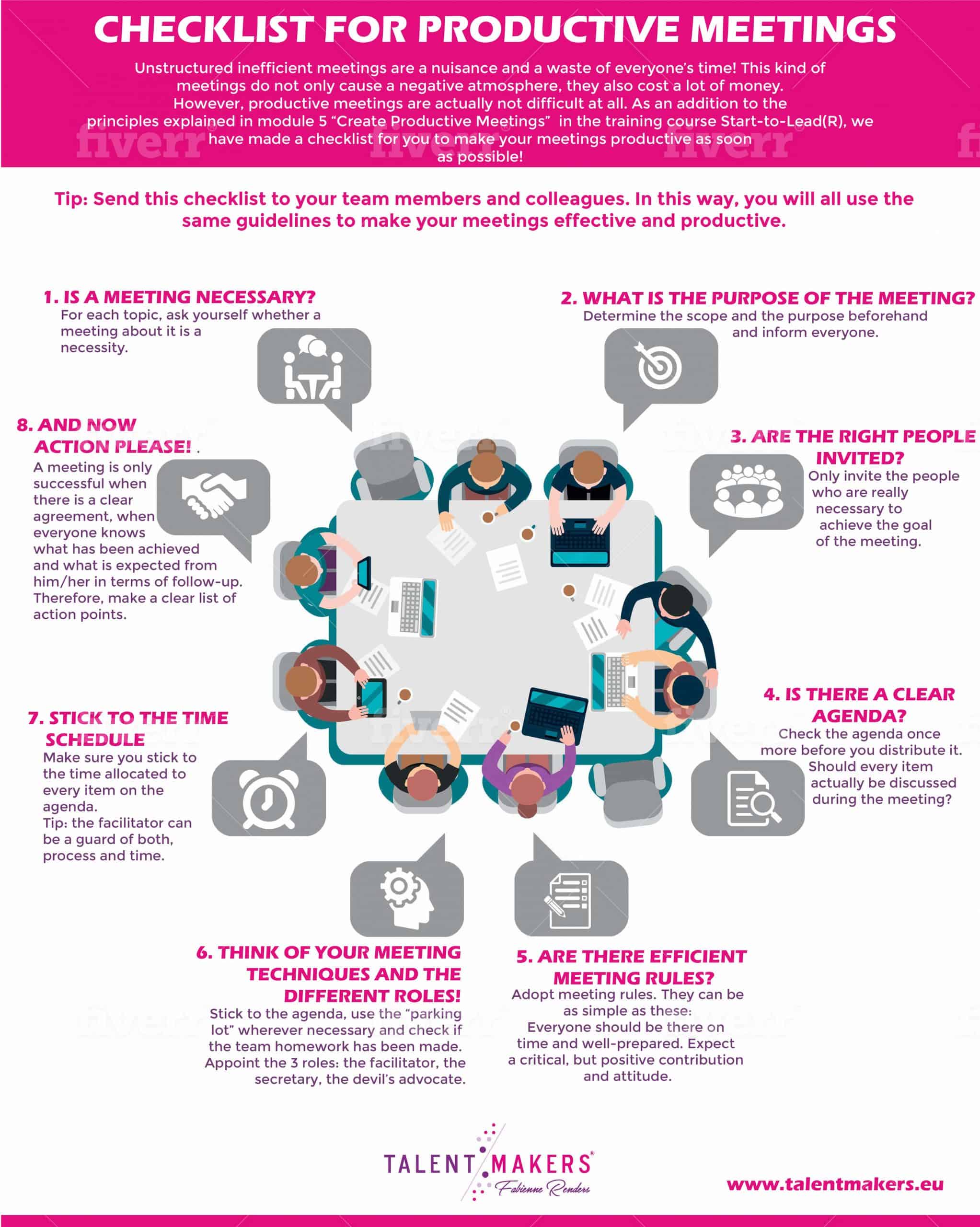 Checklist for Productive Meetings.
This way you'll make meetings fun and productive again.
In 8 simple steps towards effective and productive meetings
Step-by-step tips to apply right away
Guideline for yourself, your (remote) team and colleagues
Attractive visual checklist (pdf)
Handy to print!
Request your FREE Checklist for Productive Meetings 
below!
"… The cost of not joining the program would have been very high. I think it probably would have cost me too much, physically, mentally, and emotionally. And I have a suspicion that I would have walked away into another role, but I still wouldn't have learned anything. And I would have been caught back in the same firefighting transactional loop.
So, for me, it's those three: it's physical health, emotional health, and mental health.
Thank you to you and your program, it was absolutely incredible. It has literally altered my life, thank you so much!"
"Thank you so much, Fabienne for what you did for me. When we first met, I was thinking of quitting my management job. It was chaos, I had no clarity and no self-confidence, and I was working evenings and weekends. I was stressed out and the situation affected my well-being negatively.
Now, hardly 2 months later, I've transformed myself and my life. I feel good! My self-confidence increased dramatically, and I love my job again! I have a great connection and understanding with my team, I get the respect I deserve from my manager and I don't work overtime anymore. And what's more, I know now that I'm up for so much more!
Your program is amazing."
In all the organizations I worked for, there was such a thing as "meetingitis": unstructured, inefficient meetings that everyone complains about.
Logical, because inefficient meetings are annoying and a waste of everyone's time!
Not only do they cause a negative atmosphere, they also cost a lot of money.
My name is Fabienne Renders. I'm a (Digital)Learning & Development specialist, First-Time Manager Mentor and creator of Start-to-Lead®.
I have more than 20 years' experience as advisor and interim manager in Human Resources Management and in Learning & Development with renowned companies.
I designed and implemented training programs in communication, management and leadership skills for >18.000 employees.
Conducting effective meetings was a recurring topic and also an essential part in the execution of my many projects.
In this checklist I'll show you what the most important components are for effective and productive meetings.
If you follow this checklist consistently, you lay the foundation for a productive meeting.