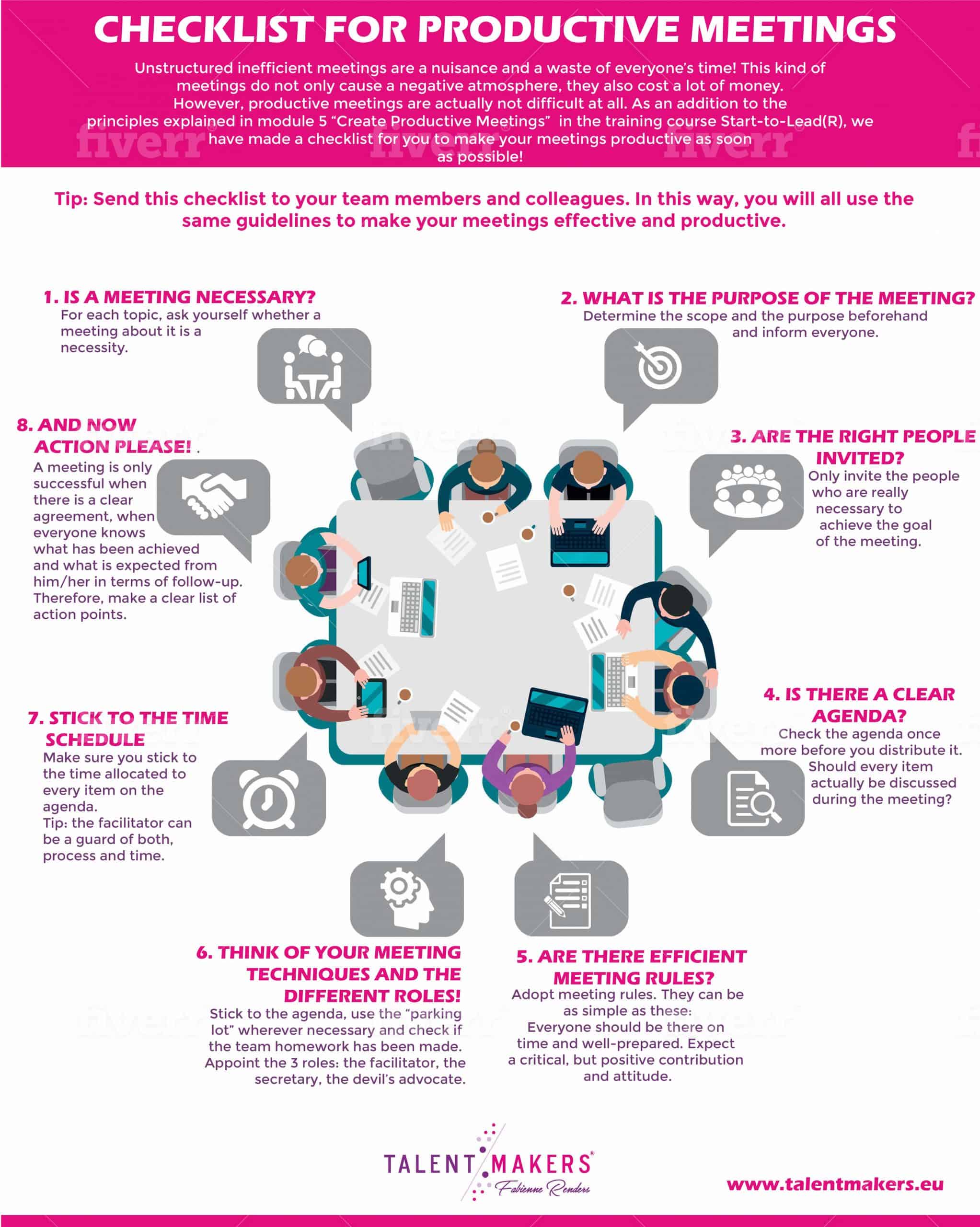 Checklist for Productive Meetings.
This way you'll make meetings fun and productive again.
In 8 simple steps towards effective and productive meetings
Step-by-step tips to apply right away
Guideline for yourself, your (remote) team and colleagues
Attractive visual checklist (pdf)
Handy to print!
Request your FREE Checklist for Productive Meetings 
below!
"The move to Operations Manager took me out of my comfort zone. The Start-to-Lead® mentoring program perfectly prepared me and guided me through the first months of my new challenging role. In combination with the coaching by Fabienne, this was a golden move."
" … Fabienne helped me find a balance between the business and human aspects of the job as a leader. In addition, you are taught about specific techniques, such as setting up SMART goals, giving feedback and organising effective meetings, to help improve your soft skills. … "
In all the organizations I worked for, there was such a thing as "meetingitis": unstructured, inefficient meetings that everyone complains about.
Logical, because inefficient meetings are annoying and a waste of everyone's time!
Not only do they cause a negative atmosphere, they also cost a lot of money.
My name is Fabienne Renders. I'm a (Digital)Learning & Development specialist, First-Time Manager Mentor and creator of Start-to-Lead®.
I have more than 20 years' experience as advisor and interim manager in Human Resources Management and in Learning & Development with renowned companies.
I designed and implemented training programs in communication, management and leadership skills for >18.000 employees.
Conducting effective meetings was a recurring topic and also an essential part in the execution of my many projects.
In this checklist I'll show you what the most important components are for effective and productive meetings.
If you follow this checklist consistently, you lay the foundation for a productive meeting.