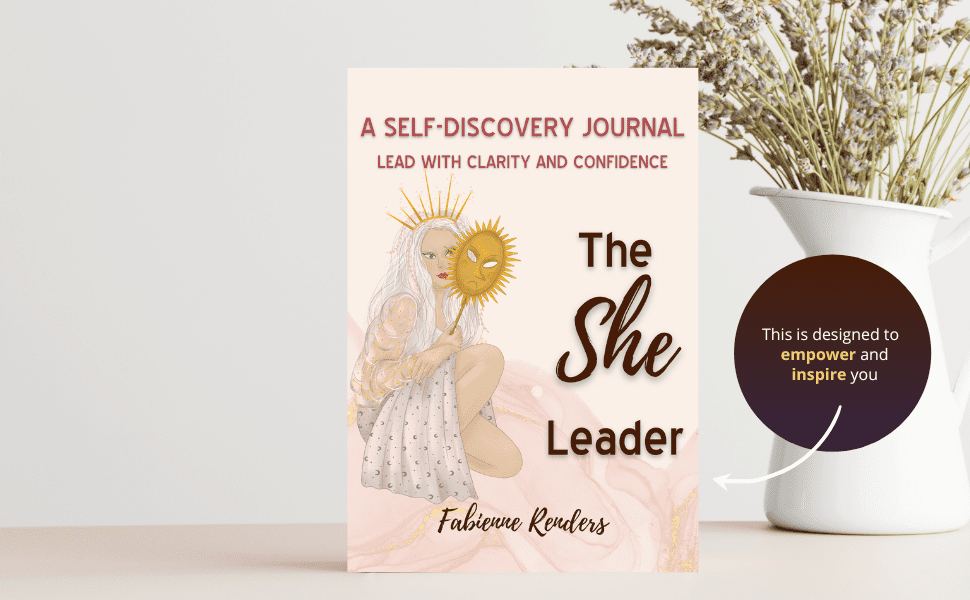 "The She Leader"
A SELF-DISCOVERY JOURNAL
LEAD WITH CLARITY AND CONFIDENCE
"The She Leader"
A SELF-DISCOVERY JOURNAL
LEAD WITH CLARITY AND CONFIDENCE
"Fabienne Renders, The Leadership Mentor, has outdone herself again. This time she has created a Journal. But wait, this is not just any Journal; this Journal is visually enchanting and emotionally compelling. A Journal that magically leads a woman through the realm of self-discovery in a gentle, reflective manner. "The She Leader" is a Journal so aptly named, which follows a premise of -Aristotle- "Knowing Yourself is the beginning of all wisdom." It is a superb work that takes one on a transformational journey to Clarity and Unwavering Confidence. It is truly empowering. Bravo Fabienne!" – Sandy Leverone, Business Coach to Golden FemPreneurs, Female Business Entrepreneurs Aged 50+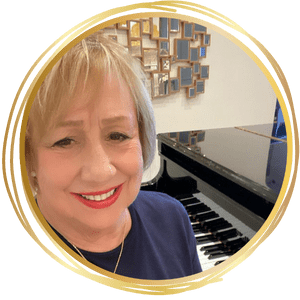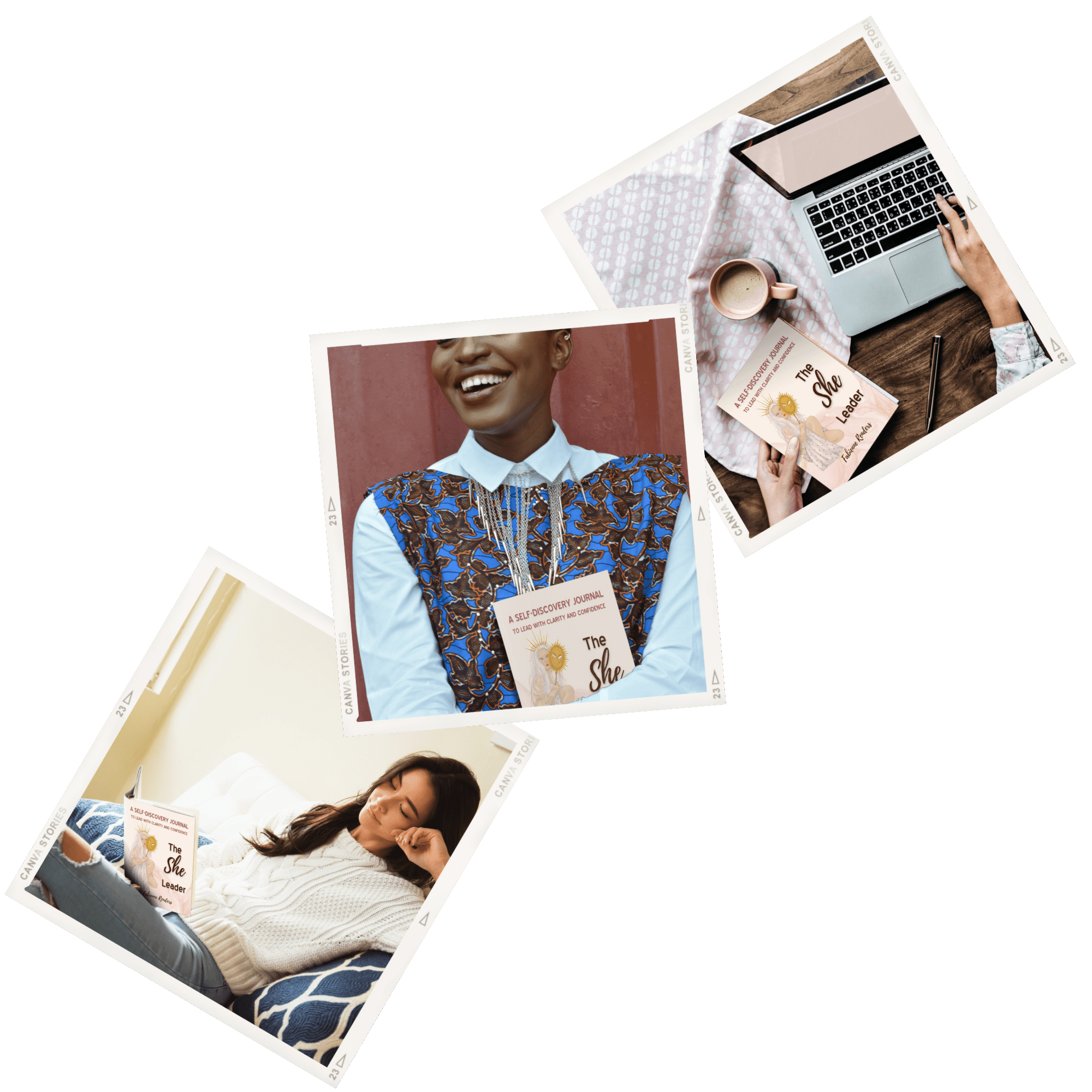 EMBRACE THE AMAZING
Leader
YOU ARE WITH THIS SELF-DISCOVERY JOURNAL!
Get inspired to lead with clarity and confidence using this self-
discovery Journal for women in leadership roles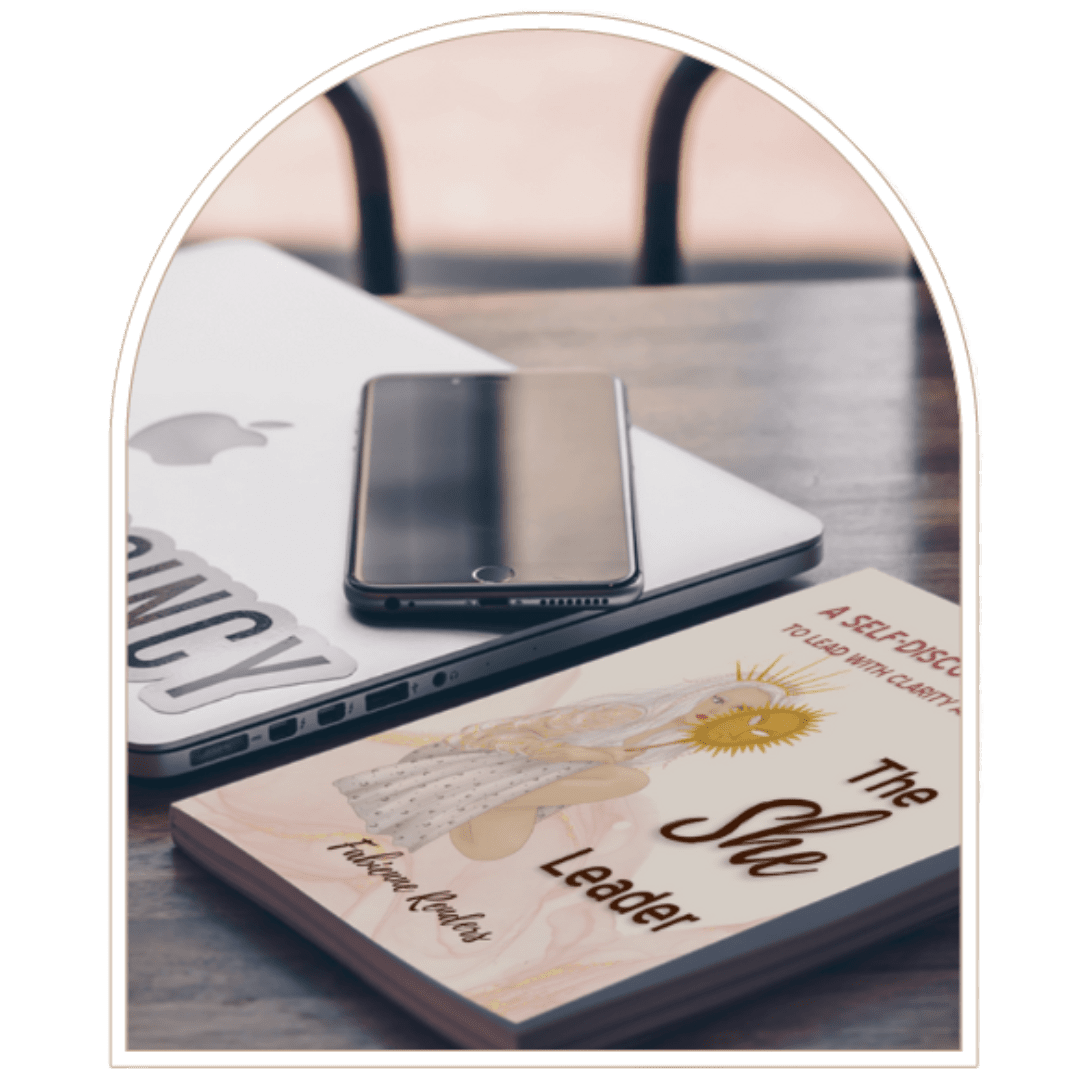 This Journal will help you: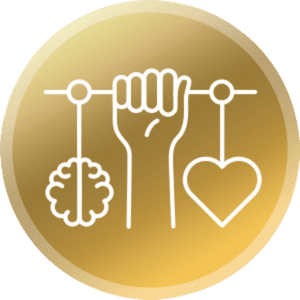 GET INSPIRED
By quotes, affirmations and powerful exercises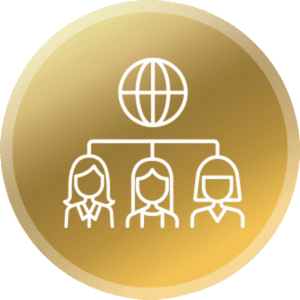 EXPAND YOUR VISION
Gain insights and clarity, discover a new perspective and vision of who you are as a leader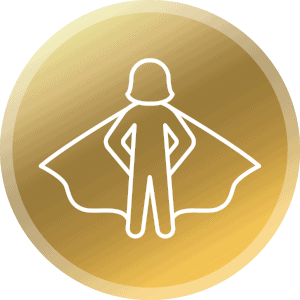 CELEBRATE YOU
Celebrate and recognize yourself, boost confidence and enhance your leadership development journey
"Self-awareness, self-knowledge, getting clarity are things that I love to explore and grow. Journaling is something I do since my teenage years, but as a business owner and leader, I take it even more seriously. A journal can be used not only to trust your thoughts and feelings onto paper, but also to gain clarity about certain issues, research point of views on topics and to make your own personal growth visible. The beautifully designed She Leader Journal that Fabienne Renders created is a perfect invitation to investigate thoughts on the topic of personal leadership. It has a magical look and feel, which inspires awareness and reflection, and the insightful prompts and exercises are provoking to dig deeper than you would normally look at the way you lead. If you are a female leader who is ambitious to take her leadership to a next level and is not afraid to look into the mirror and to throw off masks, this journal is highly recommended."
"Fabienne created the most beautiful, magical journal. From the cover to the last page, she pulls you into the magic this journal brings to you. In a simple yet very powerful journey she takes you deep in to your soul. As a leader and entrepreneur to me it is very important to do the deep inner work that takes women to their next level. This magical journal does that in every section. Fabienne challenges you to go deep and uncover what you need to step into your power. Your best next level. This journal is an experience and a journey every woman should be going through in her career no matter which level you're at. Get it for yourself and a friend, I promise you will love it."
"As an entrepreneur, a female leader and as a human being, it sometimes happens that at certain moments in our own business or career we no longer see things clearly. Who we are, what we want, what we stand for and what impact we want to make. As a business owner, I have also experienced this at times. In that case, I like to have valuable tools at my disposal and take the necessary steps to the next level. The SHE Leader Journal that Fabienne created is such a valuable tool. In a very accessible and simple way, Fabienne helps you gain insights, clarity and build self- confidence. This journal inspires and helps you to look into your soul and stand (back) in your power. Furthermore, it is visually appealing and has a magical feel to it. I recommend this journal to every female professional. A wonderful gift to yourself, and to a friend!"
"Fabienne created a beautiful journal which truly feels like a treat to yourself. It's the perfect daily getaway and gives plenty of opportunity to reflect. It's obvious that Fabienne put a lot of attention and care into creating such an amazing tool. The illustrations are so well picked. Whether you are a leader in a company or a leader to your family, I truly feel we could all benefit from this amazing self-discovery journal."
"A thoughtful and empowering journal for all female leaders who want to increase their impact and cooperate at the highest level with their team. By digging deep into your own beliefs Fabienne helps you to look uncertainty in the eye and reinvent yourself to become the female leader you dream to be. What I especially like is 'The Victory Log'. Mostly we don't even know how much progress we make along our journey, just by taking baby steps…"
"This is an amazing journaling activity that couldn't be more perfect for us ladies in leadership positions. The questions really help you understand your essence as a leader and how to show up powerfully with all the important clarity you need! And I LOVE the design, it also takes you on a beautiful visual journey. ♥️ Thank you so much Fabienne."
"The importance of every entrepreneur to be able to delve deep into their soul is imperative. Often own values and self-awareness are overlooked. This Journal will lead one into systematically exploring and discovering of one's identity and celebrate being an authoritative woman."
"Most of us fail to distinguish between going through a change and a transition in our lives. The latter is a completely new lifecycle that requires us to reveal unique capabilities and aspects of our personalities which we do not realize that we have. My name is Sahar Huneidi-Palmer. I am an author, podcaster, Online Intuitive Life Mentor, Holistic Therapist, and Healer for over 30 years. I had the privilege to connect with Fabienne Renders professionally for several years. Her latest creation, "The She leader, A Self-Discovery Journal", is a profoundly enlightening and enjoyable journey into self-awareness to enable female managers connect deeper within and obtain insights about how to cope with transitioning into corporate leadership with confidence and clarity. A guaranteed powerful and inspiring "me-time" gift to yourself. Through "The She Leader", Fabienne gently mentors you until you are certain that you have reached your goal. Order your copy right away!"
"This beautifully designed journal draws you into a journey of true self-discovery. The topics covered guide you to deep awareness and understanding of what you are capable of. After this journal you will be able to step into the powerhouse you were always meant to be."
8 Themed Sections
Self-Awareness     Connection
Values                     Trust
Identity                   Communication
Clarity                     Confidence
Victory Log
Blank lined pages to celebrate your victories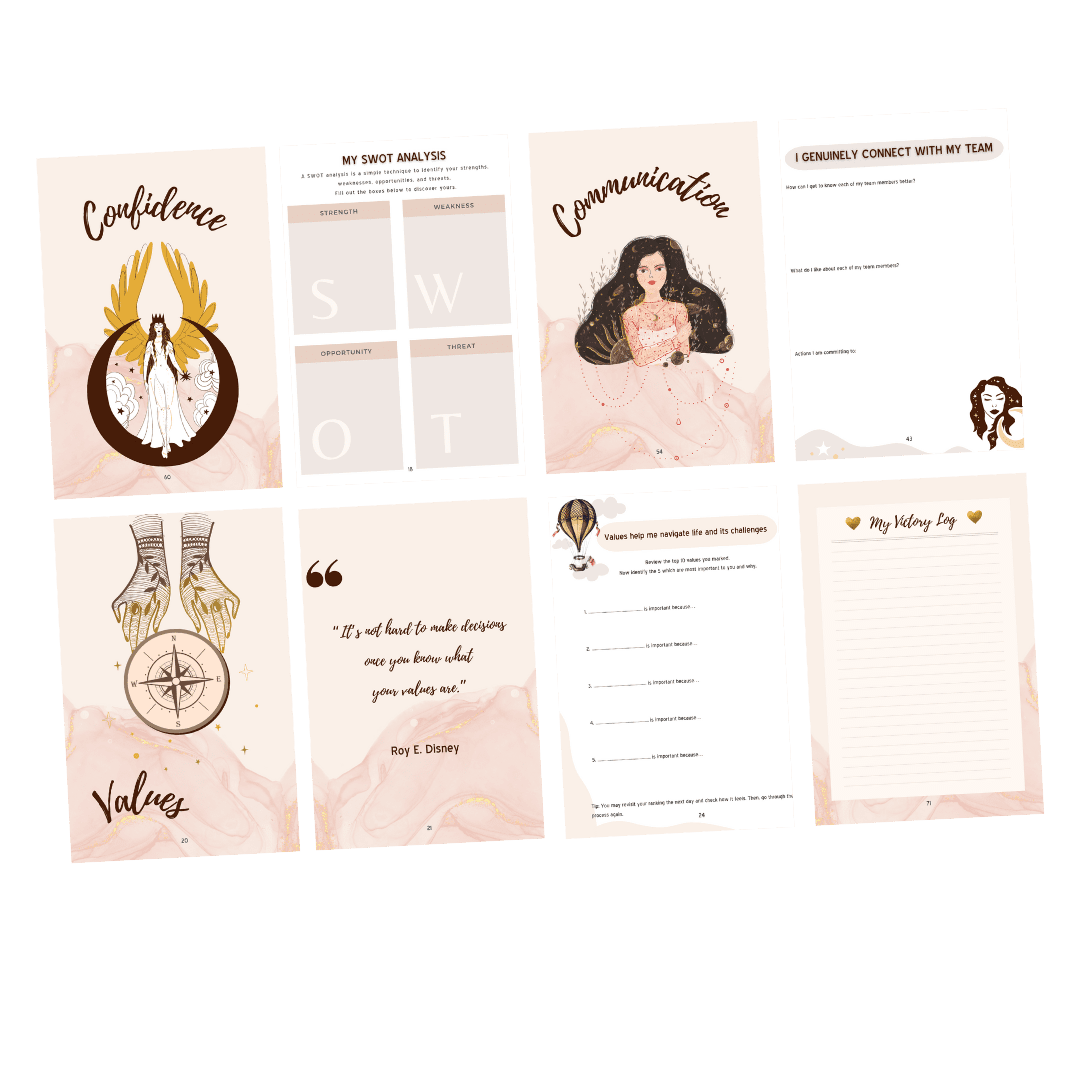 MY

Mission

WITH THIS JOURNAL
My mission with this Journal is to inspire women across the globe to lead with clarity and confidence.
And, to offer an accessible and simple yet effective tool to empower yourself and take your leadership to the next level.
Because I know that you are up for so much more!
Get your copy and send me your feedback if you want.
I would LOVE to hear from you!
Fabienne