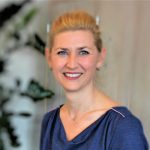 Operations Manager
As a project manager and certified scrum master, I have worked for a long time with various teams, and have predominantly used my intuition.
But the move to Operations Manager took me out of my comfort zone, wondering what would be the best way to take up my leadership role from the start?
The mentoring program Start-to-Lead® perfectly prepared and guided me through the first months of my new role.
I got short, to-the-point explanations with assignments to put everything into practice. And there was no wasting 45 minutes listening to a message that could easily have been told in 5 minutes.
This, in combination with the Coaching Q&A sessions with Fabienne, was a golden move!